by Kim Knight, The Art of Health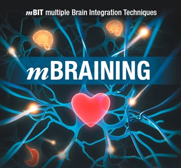 Do you know you have multiple brains?
Are you aware you have a complex and intelligent brain in your gut which contains over 500 million neurons and is the equivalent size and complexity of something like a cat's brain?
And would you like to understand why people exhibit personality changes after heart surgery or why negative emotions such as anger and hostility can damage the heart and lead to coronary disease?
Do you know your 3 brains develop in a different order in the womb and why this is significant?
All these topics and more will be looked at during the extraordinary free mBraining webinar which launches this week on the Art of Health EMOTIONAL INTELLIGENCE SUMMIT.
Marvin Oka and Grant Soosalu, creators and authors of the revolutionary new mBraining mBIT technology, which shows how to align and integrate our multiple brains, and will be broadcasting the latest findings in neuroscience to a global audience.
During their 2 free online webinars they will explain:
What mBraining is, what our 3 brains are and why we need to use them to achieve our maximum potential out of life.
What actually constitutes a working 'brain' and why our head brain is not the only brain we need to pay attention to
How the knowledge of multiple brains has been around for thousands of years and why it is only just being proven by science
How our 3 brains develop from the time we are in the womb including which brains develop first and why this is significant.
Why we need to understand the prime functions of each brain and know which order to use them in!
Why people can exhibit personality changes after heart surgery and why negative emotions such as anger and hostility can damage the heart and lead to coronary disease
How despair, depression, hopelessness and apathy are linked to heart disease and how positive emotions are an antidote to heart disease
Fortunately mBraining has multiple solutions to help you use your multiple brains!
Marvin will also share:
How our gut brain exhibits neuro plasticity and can learn, form memories, take on new behaviours and grow new neurons, and what this means for people with chronic gut conditions
The 5 different classes of issues which arise for people when their brains are not aligned or fully integrated
The number one thing you can do to align and bring your 3 brains into 'coherence' which is so simple you will probably have completely overlooked it!
How we can use positive emotions to as an antidote to heart disease
How it may be more reliable to trust your heart brain than your head brain when making decisions
The mBIT roadmap, an explicit framework that outlines a clear path for working with and getting the most out of your 3 brains!
and a whole heap more!
Free mBraining Webinar
Click here to register for this exciting mBraining webinar, and the complete EMOTIONAL INTELLIGENCE SUMMIT  – it's free!
Free mBraining webinar 1-3pm Monday 3 September (US PST) and on replay for 5 days http://www.timeanddate.com/worldclock/converter.html
This webinar marks the launch of the ground-breaking EMOTIONAL INTELLIGENCE SUMMIT, where 28 experts in the use of our 3 brains have come together to share how to transform every facet of our life: health, wealth, career, parenting, relationships, education and more. Plus, how emotional intelligence is a pre-requisite on the path of soul and evolutionary development, and how emotions affect the environment.
Your free mBraining webinar ticket includes:
Free Live 90 minute Webinar value USD $47 *
Free Online Webinar Replay for 5 days if you are unable to attend live or want to replay the event online
Free audio MP3 on 'Multiple Brain Integration and Wellness' – value USD $20
Free Entry for live participants into the Prize Draw to win a signed copy of the book 'mBraining' plus a personal 'mBraining' coaching session valued at $495*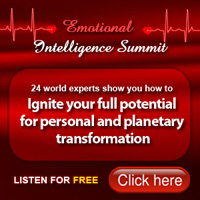 * Terms and Conditions of Live Event Launch:
Participants must be on the live seminar to enter prize draw
Limited phone lines available – first-come, first-served
Limited live webcast available – first-come, first-served
If all phone and webcast lines full, you can access the replay until 30 Oct 2012
Only one free bonus per person
Bonus Mp3 only available while EQ Summit on sale during September 2012
Numbers limited on the live call, first-come, first-served. If you miss the live call, you can still watch the online replay